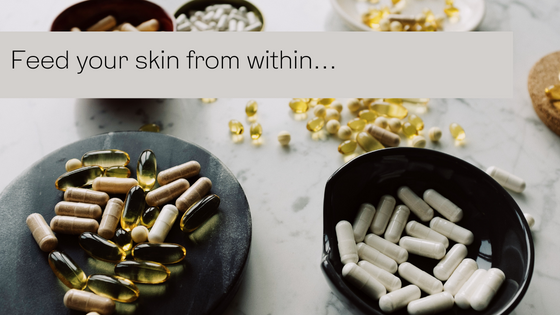 24 Feb

Our supplements: the ultimate wingman for your health goals

The journey of the Advanced Nutrition Programme supplements starts at the International Institute for Anti-Skin Aging's Health Research Centre, where they conduct above-and-beyond research, trials, and tests to develop the best wellness products for you and your skin. Every dietary supplement we create offers potent benefits while protecting the environment by operating with a sustainable approach.
SKIN ULTIMATE
Packaged in daily protective pods, our skin researchers developed this daily dose system of five capsules: Skin Omegas+, Skin Vit A+, Skin Asta-Boost, Skin Co-Q10+ and Skin Antioxidant to deliver award-winning, skin-enhancing results. Working in synergy, these capsules help support the appearance of beautiful and glowing skin, hair, and nails from within for the ultimate radiance.
Visible improvements to skin texture and radiance
Supports uneven skin tone
Antioxidant protection to shield the skin
Supports thick glossy hair
Been using these for some time. Skin is more hydrated and results speak for themselves through compliments I get from people and my esthetician about my skin
SYB6
New and improved, next generation SYB6 with 50% more skin-friendly strains to target the 7 signs of aging.
This intelligent innovation uses the next generation microbiome technology to help target the seven visible signs of ageing: Fine lines, Wrinkles, Elasticity, Uneven skin tone, Dullness, Dryness & Thinning skin.
In a pilot study conducted at our skin health research centre, 100% of participants experienced a positive change in one of more areas including a decrease in wrinkle depth, increase in hydration, increase in skin smoothness, improvement in transepidermal water loss and reduction in melanin.
I've suffered with digestive issues since childhood. Those supplements have really helped clear my gut and I feel more energetic.
SKIN OMEGA+
With full traceability in the exact provenance of our ingredients, we use a scientifically researched, premium and sustainable mix of Omega-3 fatty acids from fish oil procured from EPAX, who are a world leading supplier known to meet and exceed stringent quality and purity sourcing standards. Certified by Friends of the Sea, we use Omega-3 oils only sourced using sustainable methods that conserve both marine habitats and resources. Our actives are encased in softgel derived from fish gelatine, easily digested in natural triglyceride form and free from unpleasant, fishy smells or taste. You can be sure this is one of the best Omega 3 supplements available.
Find which supplement is right for you!